Paper Doll Origami
Complete 10 Traditional Dolls
Box: 7-1/4" x 9-3/4" box with
spot UV
Book: 6" x 6" 64-pages, 4/c throughout
60 specially designed Origami papers to make two each of ten dolls
Rights sold to Sterling Innovation
---
A World of Paper Dolls
Create 10 Traditional Dolls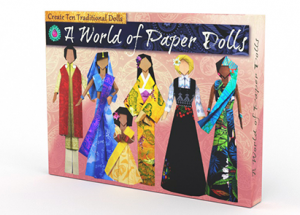 Box: 9-1/2" x 7" x 1-1/4″ 
Book: 6" x 6", 64 pages, 4/c throughout
Includes 60 specially designed Origami papers 
U.S. rights sold to Sterling Innovation
Available at:

---
Sticker Mosaics
Animals
Box: 10-1/2" x 9-3/8" x 1-3/8"
Book: 9" x 10", 32 pages, 4/c throughout
Includes: 
History of mosaics and guidelines for applying sticker mosaics
Ten 9″ x 10″ 4/c animal canvases
Stickers sheets to create 10 animals
U.S. rights sold to Sterling Innovation; Australian right sold to Hinkler
Available at:
---
Build Your Own Train
Contains everything needed to create a deluxe paper model of the Union Pacific 119 Locomotive and three cars.
Gift box: 14" x 9-1/2" x 2" with foil stamping on top and spot UV
Book: 5" x 8" 64-page about the history of trains
8-page pamphlet with instructions to assemble trains
10- sheets with pieces to assemble locomotive, passenger car, coal car and caboose
Punch-out card with wheels
Right sold to Sterling Innovation
Available at:
---
Cute Critter Crochet
60 Adorable Patterns
Create a menagerie of charming crocheted critters and accessories. A compilation of truly adorable crochet patterns on a wide range of themes, with step-by-step instructions.
Book: 7-1/4″ x 8-1/4″, 144 pages
Concealed wire-O binding
Round-back
PLC case
Rights sold to Race Point, a division of Quayside Publishing
Available at:
---
Snowflakes
Instructions to Make 20 Intricate Snowflakes
Gift box: 10" x 8-1/2" x 2" hexagonal box with pre-made snowflake behind acetate window
Book: 6" x 6", 64 pages, 4/c throughout, softcover
80 sheets of foil and patterned papers
Rights sold in U.S. to Barnes & Noble, all other English-language rights sold to Hinkler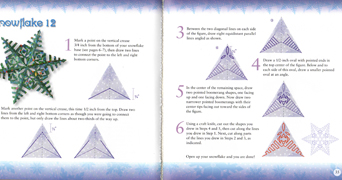 ---
The Art of the Doodle
Discover Your Inner Artist
The Guide to the Doodle–96 page instruction book with tips on creating doodles, coloring with pencils and markers, and way to use your doodles–such as for note cards, frames, gift bags, and more.
Doodle Journal–128 page guided journal is an elegant place to experiment with all of the techniques described in the instruction book, with inspiration quotes throughout.
Two 6-1/2″ x 9″ wire-O books in 7″ x 9-1/2″ portfolio case with elastic closure
Rights sold to Race Point, a division of Quayside Publishing
---