Dress-Up Bear
Plush bear helps young children learn to buckle, snap, tie and more. Mini concept book reinforces early concepts—alphabet, numbers, shapes, and colors.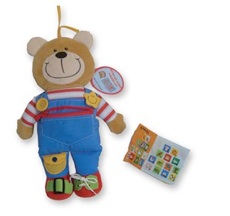 16" X 9-1/2" bear with Velcro closure, button, zipper, shoelace, snap, and buckles
3-3/4" x 3-3/4" eight-page cloth book tucks into bear's overalls for storage
Interactive activities on each page
Velcro closure on book covers
All rights available
---
My Little Farm Books
Busy babies on the go will enjoy these four colorful cloth books that reinforce the concepts of colors, numbers, action words, and weather.
9" x 9" display box
Four 4" x 4" eight-page cloth books
Plush animals on book covers
Hooks to attach to strollers
Velcro closures on book covers
All rights available
---
Good Night, Teddy & Good Day, Teddy
Amazingly soft covers with embroidered titles, these very special cloth books use interactive activities to reinforce children's routines of getting ready for bed and starting their busy days.
7-1/4" x 7-1/4" in vinyl carry bag
Eight-page cloth books
Touch and fell components on each book page
Velcro closures on book covers
All rights available
---